Stainless Steel Milk Cans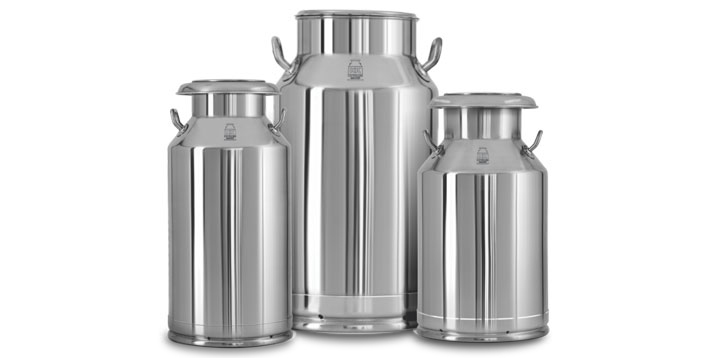 Download Brochure

KK's SS cans are made from 304 grade steel prime material. This grade has high corrosion resistance. These cans are manufactured with deep drawing & spinning technology hence work hardened body withstand rough handling.

• Circumferentially welded can lids.
• Properly bent & riveted handles.
• Bottom made from 305 grade SS.
• Perfectly polished and finished milk cans & lids.


Cap. in Ltrs.
5L
± 5%
10L
± 5%
20L
± 2%
25L
± 2%
30L
± 2%
40L
± 2%
50L
± 2%
Approx. Weight of
Can With Lid
0.85 Kgs
1.4 Kgs
5.5 Kgs
6.0 Kgs
7.5 Kgs
8.6 Kgs
9.5 Kgs
Inside Dia. of Body
176
± 3mm
234
± 3mm
280
± 3mm
280
± 3mm
340
± 3mm
340
± 3mm
340
± 3mm
Inside Dia. of Neck
131
± 1mm
173
± 1mm
200
± 1mm
200
± 1mm
200
± 1mm
200
± 1mm
200
± 1mm
Overall Height
250
± 4mm
286
± 4mm
435
± 4mm
513
± 4mm
481
± 4mm
591
± 4mm
700
± 4mm
Dia. of Base
177
± 3mm
235
± 3mm
285
± 3mm
285
± 3mm
345
± 3mm
345
± 3mm
345
± 3mm